I have been making overnight oats for as long as I can remember. It's always my go to breakfast when I have a busy morning because it is already prepared! I always have oats before an intense workout to carb up and make sure I have long lasting energy. 
Soaking your oats overnight will make you feel fuller longer and burn fat! Raw oats are one of the best sources of resistance starch which boosts metabolism! 
You will also absorb more nutrients! The process of soaking the whole grains in an acid mixture helps break down phytic acid, an antinutrient that interferes with digestive enzymes and inhibits mineral absorption.
The best part about overnight oats is that they double in size, unlike cooking oats which get smaller! Same calories, bigger volume! ;)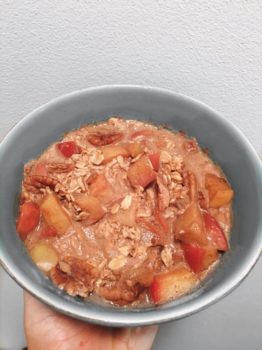 ---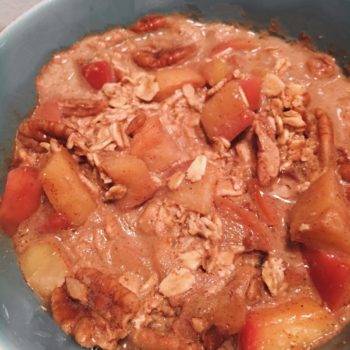 Superfood Maple Overnight Oats
Ingredients
1 apple
Handful of pecans
Cinnamon
Stevia
1 tsp Ghee vanilla butter (I use Fourth and Heart)
Lakanto maple syrup
1/2 cup gluten free rolled oats
1 cup unsweetened vanilla almond milk
1 tbsp Philosophy Berry Bliss Superfoods
1 tsp maca powder
1 scoop L-glutamine
1 scoop Better body foods greens powder
Instructions
Chop apple and toss in pan
Add stevia, Ghee, cinnamon, & maple syrup
Cook apples until soft
Add 1/2 cup oats to bowl with almond milk & super foods
Transfer apples to the bowl of oats!
Place in fridge for the next morning!
---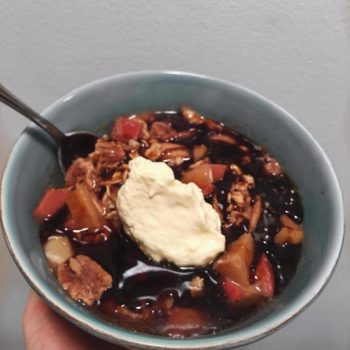 The Berry Bliss is high in antioxidants, protein, vitamin A, and contains camu camu—one of the world's most abundant forms of vitamin C. No fillers means you only need a small amount of this perfect mix to feel a shift in your energy!
Maca powder balances hormones.
Pecans are loaded with healthy fats, great for the brain!
Yacon syrup is a

PRE

- biotic which make probiotics work!
L-Glutamine is great for metabolism, gut health and muscle recovery
The Coconut Cult is an amazing probiotic. Probiotics help maintain the natural balance of organisms (microflora) in the intestines and promote a healthy digestive system by inhibiting pathogens, reducing the growth of undesirable bacteria and preventing infections in the digestive tract.