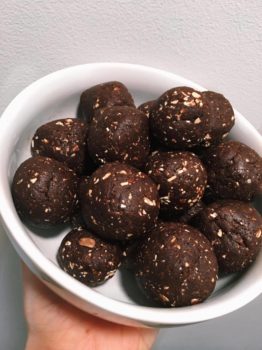 Another quick treat for all my people out there with a serious sweet tooth! These date balls will give you so much energy and have so many health benefits while also satisfying your sweet tooth! I am so addicted to dates, they are packed with fiber, potassium, copper, magnesium & B6. Dates are great for digestive health and relieving constipation. They are also anti-inflammatory and can reduce blood pressure.
---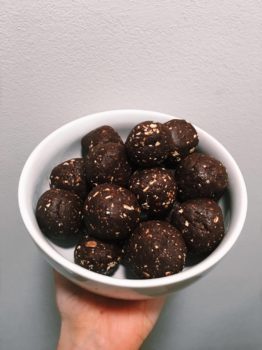 Chocolate Almond Date Protein Balls
Ingredients
1 cup oats
about 1/3 cup cacao powder
about 1/2 cup raw almond butter (only ingredient almonds)
about 15 medjool dates
1 scoop of Vital Proteins Collagen Peptides (I used the vanilla coconut flavor)
2 tbsp. flaxseed
2 tbsp. chia seed
1 tsp. maca powder
1 tsp. chlorella (can't even taste it but super beneficial)
stevia (for extra sweetness)
Instructions
combine all ingredients in a blender until crumble forms and roll into balls!
---